November 1, 2022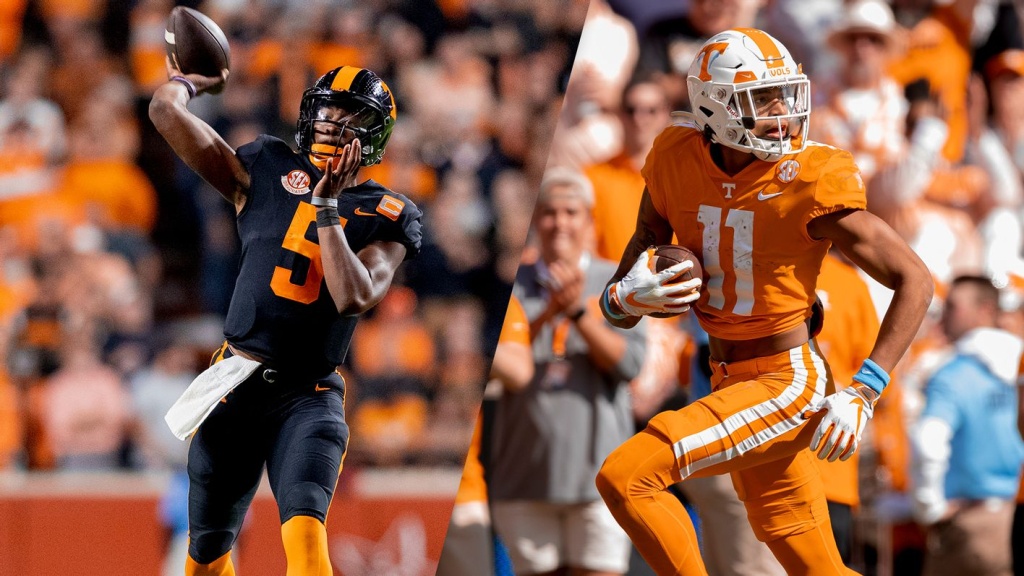 PHILADELPHIA — The Maxwell Football Club announced Tuesday morning that Tennessee redshirt-senior quarterback Hendon Hooker and junior wide receiver Jalin Hyatt are two of 20 semifinalists for the 86th Maxwell Award for Collegiate Player of the Year.

Hooker and Hyatt represent two of five players from the Southeastern Conference selected as semifinalists for the prestigious honor, while Tennessee is one of three schools in the country with multiple players on the list (Alabama, Ohio State).

A first team Midseason All-American by multiple outlets, Hooker has been lights out in facilitating the nation's No. 1 offense in terms of scoring and total yards per game. The Greensboro, North Carolina, native has completed 156-of-219 passes (71.2 percent) for 2,338 yards with 21 touchdowns and one interception—good for a passer efficiency rating of 191.64 which ranks atop the SEC and second nationally.

This season, Hooker ranks seventh in the FBS and first in the SEC in total offense (334.5), and he leads the nation in yards per attempt (10.7). His 14.99 yards per completion is second in the FBS and first in the SEC, while his completion percentage of 71.2 is second in the SEC and 10th in the FBS.

The sixth-year senior has captained the Vols to wins over five AP Top 25 opponents this season, the most of any team in the nation and the most ever for UT over the course of a regular season. The second-ranked Vols tout victories over No. 17 Pittsburgh (34-27), No. 20 Florida (38-33), No. 25 LSU (40-13), No. 3 Alabama (52-49) and No. 19 Kentucky (44-6).
In just 21 games played at Tennessee, Hooker has made his way up the Volunteer career charts. The signal caller ranks sixth in UT history with 52 passing touchdowns, seventh with 6,237 total yards and ninth with 5,283 passing yards over his past two seasons on Rocky Top. He owns school records for consecutive attempts without an interception (261) and consecutive games with a touchdown pass (20), an active streak that leads the nation.

A candidate for the Biletnikoff Award in the midst of a historic campaign, Hyatt leads the nation with a school-record 14 receiving touchdowns this season—four touchdowns more than the next closest players in the country (Marvin Harrison Jr., Ohio State; Nathaniel Dell, Houston). Through eight games, Hyatt also leads the SEC with 45 receptions and 907 receiving yards.

Hyatt is fourth in the nation in receiving yards per game (114.4) and total receiving yards (907), needing just 93 yards to become the 10th Vol in school history to eclipse 1,000 yards receiving in a single season. He has produced four 100-yard games and five games with multiple touchdown catches this fall, including active streaks of three-straight games above the century mark and four-straight with multiple receiving scores.

The Irmo, South Carolina, native delivered the greatest wide receiver performance in school history on Oct. 15 as No. 6 Tennessee downed No. 3 Alabama. He caught six passes for 207 yards and an SEC record-tying five touchdowns, leading the Vols to victory over the Tide for the first time since 2006. He also tied the single-game program record for points scored by touchdown with 30, a mark that evened with Gene McEver who had 30 points on five rushing scores against South Carolina on Dec. 7, 1929.

Known for his big-play ability, Hyatt is tops in the country in 30+ yard receiving plays (12), 40+ yard receiving plays (9), 50+ yard plays (5) and 60+ yard receiving plays (3). He has produced more 40-yard receiving plays this season (9) than 12 SEC teams have recorded as a team.

Semifinalist voting for the 86th Maxwell Award for Collegiate Player of the Year will begin on Wednesday Nov. 2 and will close on Nov. 20. Three finalists will be announced on Nov. 22, and a finalist round of voting will take place at that time. Eligible voters include Maxwell Football Club members, NCAA head football coaches, sports information directors and selected national media.

The winner of the 86th Maxwell Award will be announced as part of the ESPN Home Depot College Football Awards Show which will be broadcast live on ESPN on December 8, 2022. The formal presentation of the Maxwell Award will take place at the 86th Maxwell Awards Gala which will be held in March 2023.

College Football Hall of Fame quarterback Peyton Manning is Tennessee's lone winner of the Maxwell Award, claiming the honor after a record-setting campaign in 1997. Erik Ainge was named a semifinalist for the award in 2006.