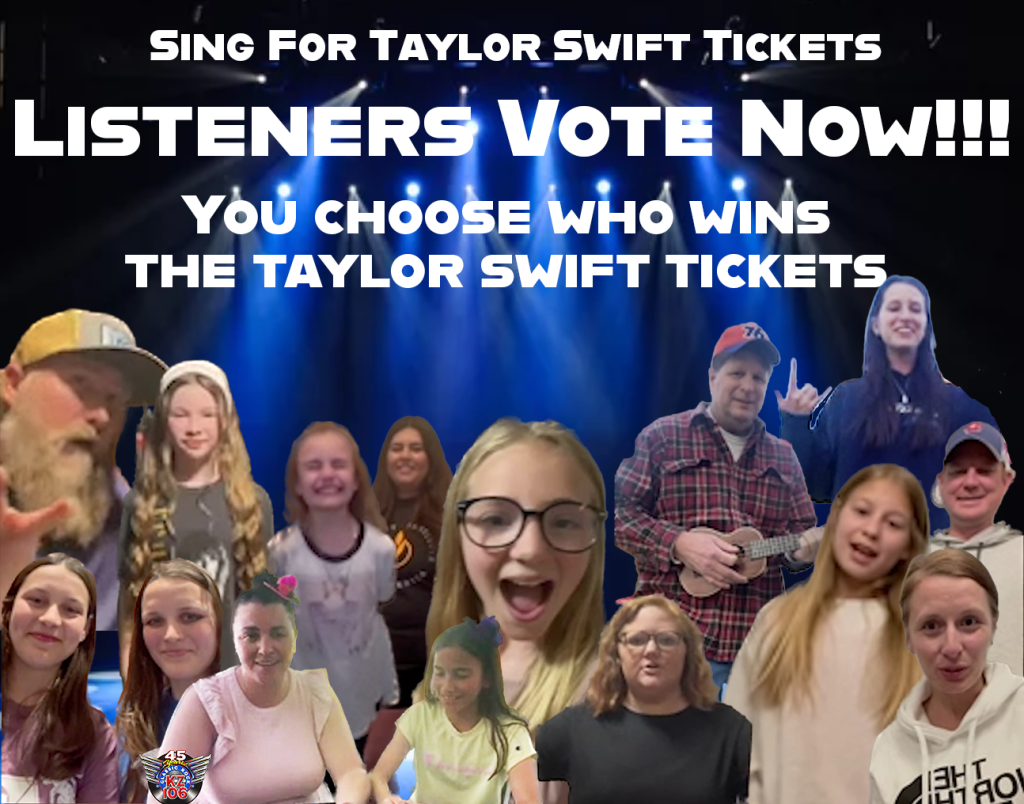 Sing for Taylor Swift Tickets!
It's Time!!!!! Now Chattanooga will vote on who is going to win the Taylor Swift tickets for the Nashville show on May 6th. Just watch the videos below and pick your favorite – then vote!
FYI: each device and/or ip address can vote up to 75 times, just refresh the browser 🙂
AND THE WINNER IS…… NATALIE & EMILIE!!!!!
---
How it works:
Contest starts April 17th, 2023 at 10am. Entries are by video submission. Entries must be submitted by adult 18+ years old.
Video must include: Taylor Swift fan will start by stating in there own words why they want the tickets, then introduce the adult to sing a portion of a Taylor swift song acapella style as the Taylor Swift fan video's it with their cellphone. Do not use background music, must be sung acapella. Video must be under 2 minutes long.
They will then submit the video to the link provided on this page.
Adult (18+) will need to register on site (located here) and create account to submit video. Click "Submit" button above to register and submit video 🙂 Make sure you have permission from Mom and Dad, that's why an adult must register 🙂
Entries are accepted through May 1st at 10am
On April 26th at 10am, the KZ106 staff will narrow down entries to the best 10 based on talent, creativity and bravery.
At that point, we place the videos on the KZ106 contest page (located here) and post a 'poll' on this page for voting.
Listeners will vote for the the winner thru the website poll. Listeners can vote up to 75 times per device and/or ip address.
On May 3rd, 2023 we will tally all votes from the website and the contestant with the most votes wins the tickets and will be contacted by phone for comment.