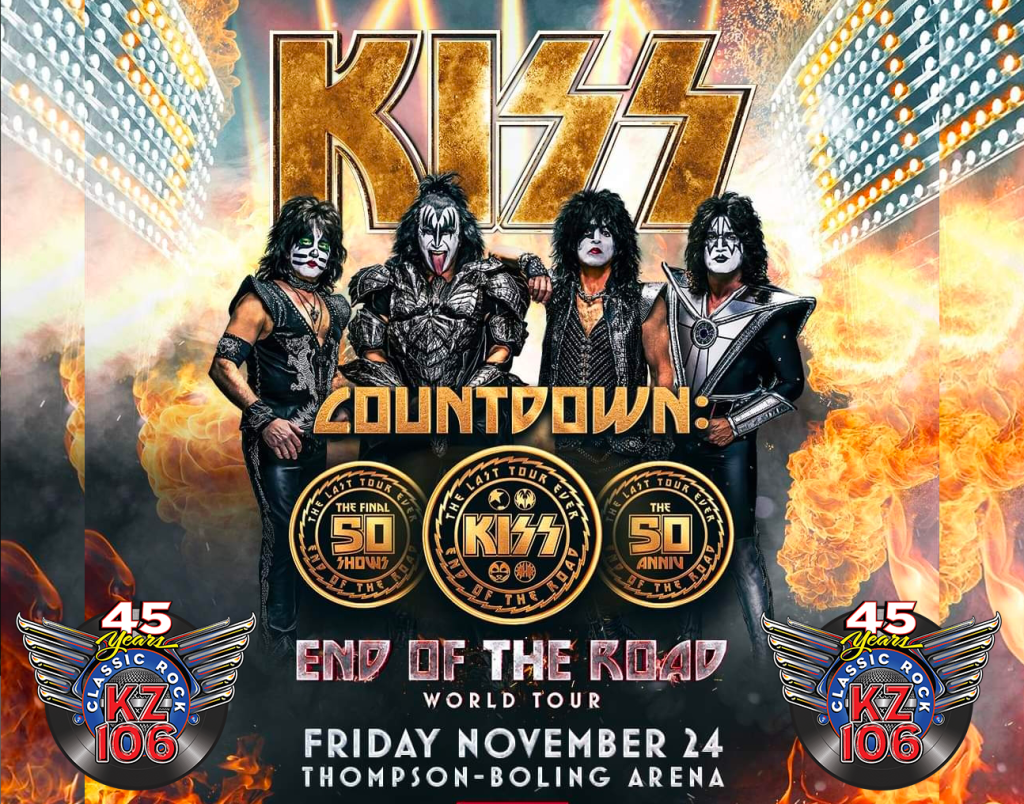 KZ106 AND "CAPTURING LIGHTNING IN A BOTTLE" ARE GOING TO GIVE TWO WINNERS AND A GUEST THE CHANCE TO CAPTURE A KISS MEMORY OF A LIFETIME IN KNOXVILLE! THERE ARE TWO WAYS TO WIN.
One – WE WILL GIVE THE KISS KEYWORD NEXT (THIS) SUNDAY NIGHT FROM 7-9PM ON THE SHOW. THEN THE NEXT DAY (MONDAY) DYLAN AND SCOTT WILL GIVE THE KISS QUE TO CALL 10AM-5PM. CALLER 10 THEN GIVE US THE KISS KEYWORD AND QUAILIFIES TO WIN. PACKAGE ONE GIVEN AWAY AT 5:20PM MONDAY 11/20/23.
Two – POST A VIDEO UP TO TWO MINUTES IN LENGTH ON THE CAPTURING LIGHTNING IN A BOTTLE FACEBOOK PAGE. CAPTURING THE ESSENCE OF THIS ICONIC CLASSIC ROCK BAND. DO AIR GUITAR, TELL A STORY, GIVE US SOME COOL KISS TRIVIA, JUST LET US KNOW WHY YOU SHOULD WIN. WHATEVER YOU WANT TO DO. MEMBERS OF KISS WILL REVIEW THE VIDEOS AND POTENTIALLY COMMENT. WE WILL RANDOMLY PICK A WINNER. WINNER ALSO ANNOUNCED MONDAY 11/20/23 AT 5:20PM. HERE IS THE LINK TO THE FACEBOOK PAGE TO POST YOUR VIDEO: https://www.facebook.com/profile.php?id=100088562078266
BOTH WINNERS AND A GUEST GET TICKETS TO THE SHOW IN KNOXVILLE, GO TO THE KISS PRE-SHOW SOUNDCHECK AND WATCH THE BAND PERFORM A FEW RARE SONGS IN STREET CLOTHES, TAKE PART IN A GROUP QUESTION AND ANSWER AND GET A PHOTO WITH THE BAND IN COSTUME BEFORE THE SHOW.
To purchase tickets follow this link: https://www.ticketmaster.com/event/1B005E5CEED17975